Neko Health raised $65M in a Series A round by Lakestar, Atomico.
New Entrant in Whole-Body Imaging Market Raises $65M in Series A Funding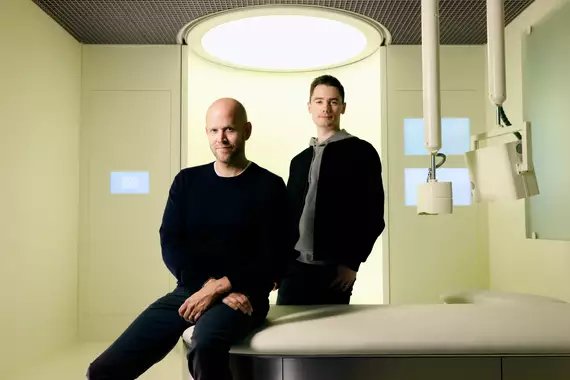 Another startup is entering the burgeoning whole-body imaging market, announcing its arrival on Wednesday with the completion of a $65 million series A funding round.
Neko Health was first launched in Sweden and has experienced "overwhelming demand" since then. Swedish billionaire entrepreneur Daniel Ek, CEO of music streaming service Spotify, co-founded the company in 2018, with European venture capital firm Lakestar leading the initial financing round.
The company said it has developed a "new medical scanning technology concept," allowing for "broad and noninvasive health data collection." Each exam takes about 10 minutes, is followed by a physician consultation, and is aimed at detecting conditions such as skin cancer, cardiovascular disease and diabetes before symptoms arise.
"Healthcare costs are spiraling out of control. We believe preventive health will be key to reversing this trend," Hjalmar Nilsonne, CEO and co-founder of Neko Health, said in a July 5 announcement. "Doctors today just don't have enough time or resources to focus on prevention. This leads to many health problems going unnoticed until they get really serious, causing a lot of pain and putting a massive strain on the healthcare system."
Each scan costs about $271 (USD) and involves exam including 360-degree "skin scan," electrocardiography to evaluate the heart's axis and chest ultrasound for ejection fraction and to gauge the heart muscle's function. Following the service's launch in Stockholm, Sweden, Neko Health claims that all slots sold out in "less than two hours," with over 10,000 individuals currently on the waiting list. They also are reportedly seeing a rebooking rate of 80% after the first visit, demonstrating that "the vast majority of its members choose to make this part of their annual health routine."
Others participating in the funding round include European venture capital firm Atomico and U.S. private equity company General Catalyst. Neko Health said it will use the money to accelerate expansion across Europe, invest in research and development, conduct clinical studies and recruit talent.
The company joins a growing number of startups launching whole body imaging services including Ezra and Prenuvo, along with radiology practice SimonMed.
Published on : 07th July, 2023