Yourgene Health Launches MagBench Automated DNA Extraction Instrument and Kit for NIPT Workflows
Offers clinical labs in APAC and Middle East cost-efficient, bench-top robotic cell-free DNA extraction workstation and reagents for Yourgene's Sage 32 NIPT Workflow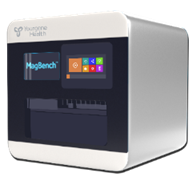 Yourgene Health plc , a leading international molecular diagnostics group, launched the Yourgene® MagBench™ Automated DNA Extraction Instrument and Kit. MagBench solution is available to Sage™ customers across Asia-Pacific and the Middle East. MagBench offers a simple, fast, and cost-efficient, bench-top robotic cell-free DNA (cfDNA) extraction workstation optimised for Yourgene's Sage 32 NIPT Workflow. This provides clinical laboratories with a streamlined end-to-end solution, from sample to report, enabling them to provide a more accurate and competitive non-invasive prenatal testing (NIPT) service.
The MagBench Automated DNA Extraction Instrument is easy to use, quick to install and provides users with an intuitive touchscreen user interface with built-in protocols, offering fast run times and flexible sample throughput to meet the laboratory's testing needs. The MagBench Extraction Kit comprises sample and elution tubes, pre-sealed cartridges with all the reagents needed for efficient cfDNA purification, and individually packaged tip sets with a unique cross-notch design for precise volume pipetting.
Increased automation during DNA extraction, limits hands-on procedures, minimising the chance of human error and with single-use tip disposal and a built-in UV lamp for decontamination between runs, it minimises the risk of cross contamination. It also helps improve the accuracy and consistency of pipetting, resulting in a lower failure rate.
Sage Prenatal Screen offers a Safe, Accurate, Genetic Evaluation of placental DNA in maternal blood using next-generation sequencing in three days. The NIPT workflow includes extracting DNA from the maternal plasma using MagBench, followed by library preparation and enrichment, sequencing, and Sage Link analysis to estimate the risk of a fetus having trisomy 21, 18 or 13, rare autosomal aneuploidies, sex chromosome aneuploidies and the most clinically relevant microdeletions.
Dr Rob Henke, Vice President of Sales, Asia-Pacific at Yourgene Health, said: "Yourgene is committed to delivering best-in-class NIPT solutions, where precision and quality assurance are key. MagBench enables an economical and automated NIPT workflow. Reducing manual procedures improves user experience, facilitating true walkaway time while minimising the risk of contamination and improving testing accuracy. This decreases the number of screening failures, greatly improves efficiency, and helps lower expectant parents' anxiety."
Published on : 06th September, 2023